This was my 28th day of pedalling on The Danube Bike Trail.  With today's 93.5 miles it made my total mileage from Cambridge to be 2,996 miles of which 3,071km was on The Danube Bike Trail as outlined in Book1,  Book2,  Book3 & mostly Book4 (I stayed in Romania) of the Bikeline series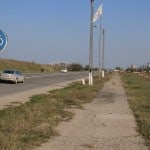 It started by going through all the ghost summer holiday towns all wrapped up for the winter. At Navodari you actually get a short & bumpy stretch of real bike track

 then onto long straight but hilly roads all well made & pretty quiet  though pleasant enough villages.  You eventually hit the nightmare stretch of Highway 22 for 14km before turning off to Jurivloca. straight into a roaring headwind.  I'm not sure quite why this area has such beautifully kept roads & pavements. Must be to do with the all the wind farms I guess.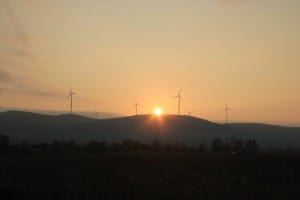 It started to get late  by the time I reached Agighiol so I skipped the big detour and went straight to Tulcea, which is just as well as by the time I arrived it was pitch black & my front light ran out of battery

coupled with AroundMe failing, by sending me the long way to the hotel where I was told it was full! they were lying of course but I had already spotted The Hotel Rex so that's where I ended up pretty well exhausted.
I hadn't spotted any places to stay except maybe a pension around Enisala so it's a pretty long day.
All the time in Romania I haven't seen ONE E6 cycleway or any navigation signs for The Danube bikeway
Here's my Strava and some pictures